NCLB Works!
A campaign to reauthorize and strengthen No Child Left Behind
NCLB Works! is a broad coalition of business, education, community and civil rights groups working in support of efforts to strengthen and reauthorize the No Child Left Behind Act of 2001, share the common belief that this law has been instrumental in focusing our nation on improving academic achievement for all students.

As Congress begins consideration to renew this historic law, we urge Members to maintain and strengthen the fundamental principles and goals of NCLB, specifically: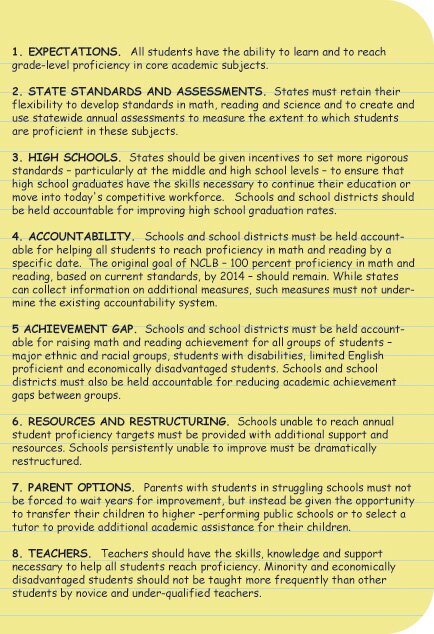 Want to lend your support to our effort? This section allows you to join our campaign and contact policymakers to urge them to devote their time and resources to ensuring that America remains the world leader in education and innovation. Our goal is to reauthorize and strengthen the No Child Left Behind Act. This will enable us to continue our progress in educating our children and enhancing our nation's workforce and competitiveness.
Add your name below to show your support for the reauthorization to of NCLB. By getting involved, you can help us garner support for our efforts to ensure that you, your family, your company and all of America have a sound and secure future. Together, we can make a difference for our nation's education system and future competitiveness.
To sign this petition, fill out the form below: